planblue: making the invisible visible
07.09.2020
Astronautin GmbH: Bremen start-up offers 'out of this world' empowerment workshops
17.09.2020
14.9.2020: Bremen has been a decisive player in the space domain for decades. In addition to the well-established industry giants, more and more start-ups and small and medium-sized companies in the "New Space" domain are moving to the City of Space in Northern Germany. AVIASPACE BREMEN e.V., which has always been particularly interested in supporting drivers of innovation, introduces the most impressive new players in Bremen. The software developer Valispace is one of them.
Valispace eliminates – quickly and easily – a well-known problem, says the companies co-founder and satellite engineer Marco Witzmann (CEO): "Some of the largest space projects today are still documented in Word and Excel. This eats up valuable working time and is prone to errors, as sometimes numerous players work together on a large project and the data has to be updated manually".
A problem that the Bremen Valispace tool solves. Marco Witzmann: "With Valispace, we offer large, interdisciplinary teams a great opportunity to implement projects in a clean and quick manner – without avoidable frictional losses". Unlike standard project management software, Valispace is specially developed for space engineers. All project participants can access the browser-based application – from anywhere in the world – and track the changes made by their colleagues.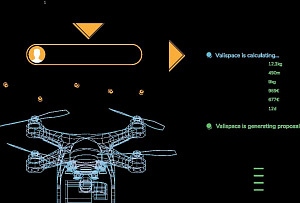 Marco Witzmann: "When it comes to space, most people think of high-tech. However, big aerospace companies are faced with the challenge of how to work with lots of engineers on the same data-set without producing errors that may delay projects. In times of Corona, it should now have become clear to everyone that especially extensive technical projects require a lean solution for joint, traceable work".  What is important to Witzmann: "A tool like Valispace is not only something for large space companies with gigantic projects in the field of launcher and satellite construction, but also for young start-ups that are currently rebuilding their processes and tool chains".
About Valispace
Valispace is a browser-based software that enables engineers and interdisciplinary teams to jointly develop complex products for different industries. In the space sector, this mainly concerns satellites and launchers. The software becomes the source where all the threads come together – from initial requirements to design, verification and testing. By automating administrative project tasks, Valispace effectively helps to reduce development costs by up to 20 percent. Founded in 2016 and now run by Marco Witzmann, Louise Lindblad and Nelson Monteiro, Valispace is now successfully used by companies such as Airbus, DLR, ESA, OHB, Momentus, ispace (and many more).
About ESA BIC Northern Germany
The ESA Business Incubation Centre (BIC) Northern Germany is headquartered at the BITZ, within Bremen's largest business and technology centre for high-tech companies and startups. ESA BIC Northern Germany will bring new opportunities to the region and therefore strengthen Bremen's aeronautics and space sector.
It complements the existing aeronautics and space innovation cluster association AVIASPACE and is supported by "Starthaus", a financial guide for new businesses and startups.
ESA BIC Northern Germany is managed by AZO, an international networking and branding company for the European space programmes that also manages ESA BIC Bavaria with three locations in southern Germany.
In the future, ESA BIC NG, is set to expand to the northern states of Hamburg, Lower Saxony, Schleswig-Holstein, Mecklenburg-West Pomerania and Berlin-Brandenburg.
Already a start-up or interested in  founding a company? Then you too can apply to the ESA Business Incubation Centre Northern Germany. The next application deadline is 19 October 2020.
Your advantages at a glance:
– zero equity funding
– Access to the space industry and user community
– business support
– Co-working spaces
23.11.2023
Space Tech Expo Europe returned to Bremen, the city of aerospace, for its sixth edition. The three-day trade fair took place from November 14 – 16,
[…]
16.10.2023
In the world of engineering, designing a product can be a complex and time-consuming process. With thousands of documents detailing every aspect of a design, even
[…]
30.08.2023
In today's rapidly changing world, finding innovative solutions to combat climate change and reduce carbon emissions is more crucial than ever. Unleash Future Boats, a German
[…]