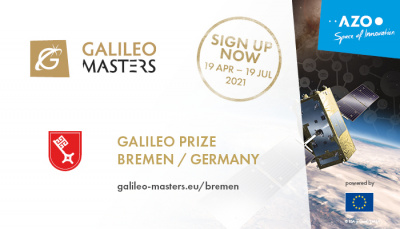 Galileo Prize Bremen
11.06.2021
General Meeting and Board Elections of Aviaspace Bremen e.V.
12.06.2021
The Copernicus Masters is a global innovation competition at the forefront of earth observation (EO) data applications. It was launched in 2011 by AZO on behalf of the European Space Agency (ESA), with support from the European Commission (COM) and world-class partners from industry and governmental institutions alike. The success of previous winners has proven the Copernicus Masters' ability to boost the use of earth observation data in highly innovative solutions to help tackle environmental and societal challenges.
In order to be in the running for the overall Copernicus Masters prize, participants must first apply for one Partner Challenge as well as one Copernicus Prize. The Copernicus Prizes are offered by partners representing either regions or countries. This year, the state of Bremen will partake once again with the Copernicus Prize Bremen, organized by Aviaspace Bremen e.V., with support from Starthaus Bremen.
The winners of this year's Copernicus Prize Bremen will be awarded: 
Cash prize of 2250EUR
Business incubation
Coaching
Technical support
Tailored promotion of their winning idea
Access to expert and industry leaders
One year rent-free co-working space at BITZ Bremen
A free trip to the Space Awards in December
To participate in the Copernicus Prize Bremen 2021, applicants must be a natural or legal person of an EU Member State or European Economic Area (EEA), European Neighboring Countries (ENP), South/East countries or other countries with which the EU has space dialogues and cooperation: USA, Canada, Latin America, Africa, Gulf Cooperation Countries, Japan, Korea, Australia, New Zealand. Winners must be registered in the state of Bremen in order to receive rewards.
If you are interested in participating in the Copernicus Prize Bremen as well as the overall Copernicus Masters, then make sure to submit your application by the 19. July 2021. For more information, click here.