Space Tech Expo USA
26.05.2022
Award-winning deeeper.technology revolutionises digital maps using satellite data
21.06.2022
Since 2021 the ESA Business Incubation Centre (BIC) Northern Germany has a new centre for space startups in Lübeck. The Lübeck Technology Centre with its accelerator GATEWAY 49 will take over the incubation management of the ESA BIC startups in Schleswig Holstein. One of the first incubatees in Schleswig-Holstein is 'Unleash Future Boats GmbH'. In an old Schleswig schnapps factory, the team around founding couple Stefanie and Lars Engelhard built the prototype of an emission-free, autonomous boat for passenger and freight transport, which is to go into series production soon. A great idea – and yet only a small step on the way to the big picture.
The floating tech-carrier goes by the name "ZeroOne" and combines quiet, emission-free drive logistics applications. The further development "FutureOne" is based on a hybrid drive system consisting of an electric motor plus a fuel cell, powered by green hydrogen. As of 2024, the shallow-water catamarans are to be used as ferries to carry up to 12 people on predefined routes. The first of them connects Schleswig harbour with the Viking Museum "Haithabu". An app for passenger pickup and individual use of the FutureOne fleet is being planned. Various regions and metropolitan cities in Germany and abroad have already expressed their interest.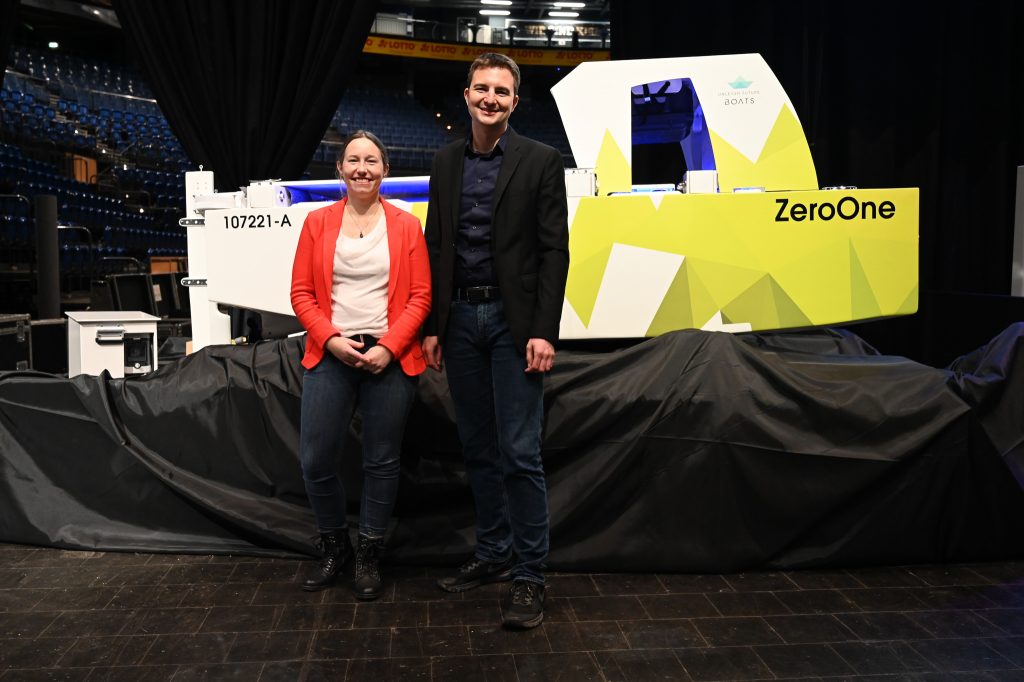 ZeroOne Stefanie and Lars Engelhardt (©Gateway49)
Prototype with international approval
The challenge of autonomous driving on water is that, unlike on the road, it is constantly in motion. With the construction of the prototype "ZeroOne", the engineers developed a sensor that creates an artificial horizon, supported by 360-degree recognition system of the surrounding environment. With success! After completing test operations on the river Schlei, "ZeroOne" received international approval as an 'autonomous vessel for the transport of persons without a captain' as well as an internationally valid insurance policy. And that after just four years of development!
PODCAST TIP | The combination of sustainable and autonomous mobility on the water has just been described as a double paradigm shift by the Bundesagentur für Sprunginnovationen in its podcast SPRIND. Listen in now:
https://www.sprind.org/de/podcast/28-stefanie-engelhard/
Climate protection, Ahoy!
The idea behind 'Unleash Future Boats GmbH' was born in 2017 during a sailing trip of the couple on the Baltic Sea. Lars Engelhard: "The fact is a lot of things that move on the water are incredibly noisy and dirty. The goal therefore had to be to find a solution for boats and ships that not only reduces noise, water pollution and CO2 emissions, but practically sets them to zero and functions completely autonomously. This is exactly what ZeroOne achieves."
Development number two follows, which is based on the needs of the shipping industry. The "CargoOne" scores as the world's first truck on water – the ideal starting point for climate-friendly inland shipping and port logistics.
Space meets Ocean
Stefanie Engelhard, CTO, sees connections to the space sector with regard to the Galileo satellites, whose highly accurate data can be used for critical manoeuvres, e.g., during mooring. This is another reason why Unleash Future Boats is now part of ESA BIC Northern Germany. Engelhard: "What we are all about in the large ESA network is to effectively use European technological advances. Our project, all the data we collect and the experience we may gain in connection with Galileo, help to keep high-tech, forward-looking innovations in Europe."
Unleash Future Boats participated in GATEWAY49's nine-month programme in 2021 and will continue to be supported by the Lübeck Accelerator as an alumni team. "GATEWAY49 is an important building block in our network that illustrates how innovative and open-minded the region is for technology start-ups," says Lars Engelhard. The Schleswig-based company receives further support from a number of partners such as the Port of Duisburg, the Würth Group and the Fraunhofer Institute. The federal, state and city governments also support the Unleash idea in a variety of ways.
Top-class support from politics
Unleash Future Boats GmbH is currently looking for further investors to finally launch their fully developed idea with a finished prototype. Lars and Stefanie Engelhard are receiving high-profile support from Rasmus Andresen, Member of the European Parliament, as well as from Germany's Vice-Chancellor and Federal Minister for Economic Affairs and Climate Protection, Dr. Robert Habeck. During a visit to the Unleash shipyard, Habeck told the German Press Agency (dpa): "The logic behind this is unbeatable: We are shifting traffic onto the water."
First retrofit, then build new
Whether zero or cargo: the future series production is supported by the Duisburg-based company Ophardt Maritim. The plan is for robots to weld together up to 600 boats a year from aluminium here – highly precisely and economically.
An important learning from the early days of founding a company: "If you try to do everything yourself for cost reasons, that's what often costs you success," says Lars Holger Engelhard. "We have a super team whose expertise we trust 100 per cent." The three who, alongside the Engelhard couple, are taking care of what the company is primarily concerned with in the current year are Moritz Gutzmann (Head of Shipbuilding), Michael Wüstefeld (CFO) and Dr.-Ing. Bernd Rech (Head of Test & Validation). These experienced experts are instrumental in getting FutureOne and CargoOne on the water according to plan.
Until then, the team of around 20 is focusing on the development and sale of further climate-friendly alternatives for shipping. These include conversion solutions in the form of complete product packages. The portfolio includes drive or propulsion units in various sizes and thus "suitable for 98 % of ships and boats from eight to 42 metres in length", explains Stefanie Engelhard. With these "all-round carefree packages", the shipyards will convert boats and ships to electric or hybrid propulsion themselves in the future.
Forward thinkers & promoters
Along the way, the Engelhards focus on the innovators of the future. Lars Holger Engelhard: "We see the inspiration and promotion of particularly talented pupils as an important social task, which is why we often and gladly work together with appropriate schools and talent centres." According to Engelhard, the reason why the targeted promotion of gifted students is often neglected in this country can also be seen in the reluctance to invest in the field of deep tech in Europe: "What is impressively logical, but still needs to be understood by society, is that long-term investments do not promise quick returns, but they do promise higher returns overall. And that applies to education just as much as to technical innovations." 
Further info and contact
http://www.unleash-future-boats.com
https://www.linkedin.com/company/unleashfutureboats/
https://www.instagram.com/UnleashFutureBoats/
https://www.facebook.com/UnleashFutureBoats/
https://twitter.com/FutureBoats
About ESA BIC Northern Germany
The Incubation Centre of the European Space Agency in Northern Germany (ESA BIC Northern Germany) is headquartered jointly with the Bremen aeronautics and space industries association AviaSpace Bremen at the BITZ, the largest innovation and technology centre for high-tech companies and startups in Bremen. The ESA BIC Northern Germany brings new startup opportunities to the region and thus strengthens the aeronautics and space sector in the German federal state of Bremen. AviaSpace Bremen supports the incubatees with its network, public relations work and targeted coaching not only during the incubation period, but also afterwards as alumni. Starthaus is the central point of contact in the Bremen startup ecosystem and supports the startups on all issues relating to business development and financing. The ESA BIC Northern Germany is managed by Anwendungszentrum GmbH Oberpfaffenhofen (AZO), an international networking and branding company for the European space programmes that also manages ESA BIC Bavaria with three locations in southern Germany.
Since 2021, ESA BIC Northern Germany has also been offering its service to space-related startups in Schleswig-Holstein. The Technikzentrum Lübeck, Aviaspace Bremen and AZO jointly operate this extension of ESA BIC Northern Germany. There are also plans to extend ESA BIC Northern Germany to the northern German federal states of Hamburg, Lower Saxony, Mecklenburg-West Pomerania and Berlin-Brandenburg.