Unleash Future Boats: The mobility of the future is on water
03.06.2022
CopMa: Extension of Submission Phase until 13 July 23:59 CEST
08.07.2022
Ever since its launch in 2020, Rostock-based start-up deeeper.technology GmbH has been revolutionising the digital map market. The deeeper software analyses large quantities of aerial photographs and Sentinel-2 satellite images with great precision and speed to capture land coverage, recording roads, bodies of water, buildings and forests on digital maps in the blink of an eye. In concrete terms this means that the capture of an area the size of Bremen takes just a few seconds with the custom-developed artificial intelligence (AI).
Effective environmental monitoring with AI from Rostock.
The information collected can be used by energy ministries, land registry offices and even energy companies to help keep the building stock up to date, for example, or to identify suitable areas for renewable energies or potential customers for photovoltaic systems. The ultimate goal is to re-survey the entire European area every year, thus contributing to improved environmental monitoring and the expansion of renewable energy.
Award-winning founder trio from the far north
The deeeper.technology founder trio includes brothers Jakob Heller (Co-CEO) and Dr. Johann Heller (CTO) as well as Joshua Becker (Co-CEO). The fast-growing start-up now has a total of 13 employees, many of whom are former fellow students from the University of Rostock. Curiosity and the founding brothers' passion for outer space are what drives the team at deeeper.technology. As children, the two wanted to become astronauts. Their company, which is just two years old, is developing rapidly and has already won a whole series of renowned start-up and innovation awards. In 2021, the young company was awarded the Copernicus Prize Bremen for its pioneering innovation.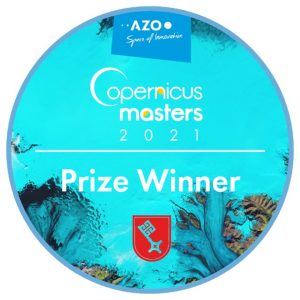 Background: Copernicus Masters
The international innovation award Copernicus Masters honours applications and ideas that use Sentinel satellite data from the Copernicus Earth Observation Programme to address relevant business and societal challenges. The annual competition demonstrates time and again how satellite data can effectively advance digitalisation and how the data collected can be used to develop forward-looking everyday applications. The Copernicus Prize Bremen – a regional Copernicus Masters competition – is currently once again being awarded by the European Space Agency (ESA) and will be presented in July 2022.