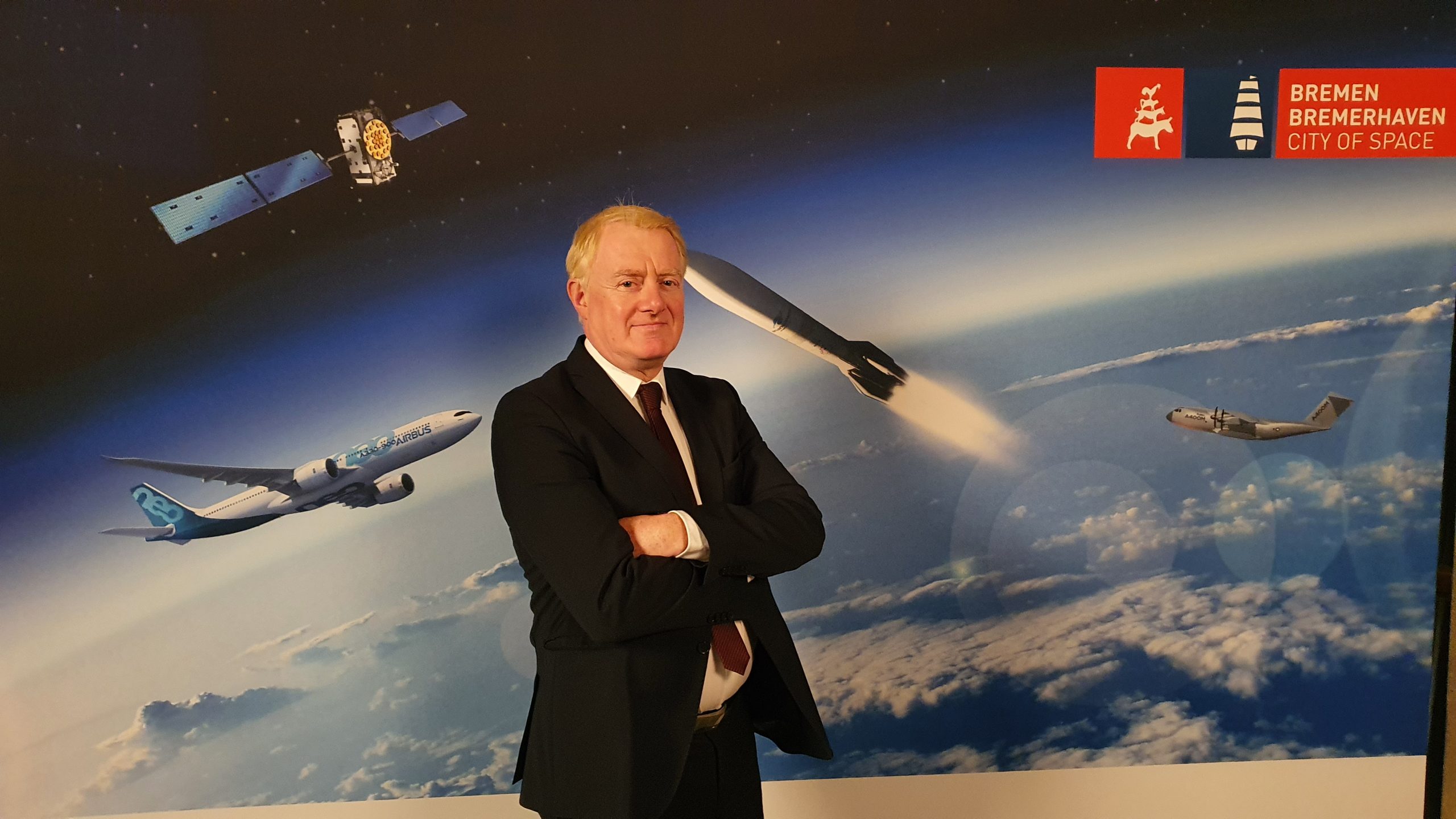 The ESA Council Meeting at Ministerial Level, 2022 in Paris – significance for Bremen
25.11.2022
First Artemis lunar mission ends
11.12.2022
Satellite construction experts Elisabeth Firchau and Abdelfattah "Abdo" Mostafa founded iorbit GmbH in Bremen in 2020, just six months after coming up with the idea for the product. Since 2022, iorbit GmbH has been supported by the incubation program at ESA BIC Northern Germany.
The demand for satellites in low Earth orbit is increasing. However, the problem is that a rocket does not function like a public service bus. Too often there are very few possibilities for transporting several satellites into multiple orbits simultaneously and launching them exactly to their designation. Furthermore, the lack of concepts for avoiding and reducing space debris, and resource-saving service offerings in satellite operations poses a big problem. The rapid growth of the competition shows just how great the need is in these areas. What sets the idea of iorbit apart from other providers; it addresses all these problems with a single solution.
iorbit acts as a service module for satellites
The goal is to provide a complete solution, an all-round service for satellite manufacturers, launch services and others. The idea includes the implementation of an intermediate satellite that transports several smaller satellites at the same time and delivers them exactly into their designated orbits. Once this task has been completed, the iorbit satellite becomes a service module that inspects satellites, realigns them and deorbits them if necessary. To do this, it deorbits the satellites that are no longer needed into graveyard orbits. Or the satellites make their way back to Earth and burn up as they enter the Earth's atmosphere. In short: an idea tailored to the current and future needs of commercial space flight.
The dedicated founding team sees themselves as pioneers in a segment of the space market involved in the manufacturing of subsystems, satellites, operations and logistics. Abdo Mostafa says, "our idea is promising. The demand for the product is there. The next thing is to move forward with concrete implementation. What's needed are investors, of course, but also other team members who will work with us to perfect the overall products."
The plan, therefore, includes the search for supporters, partnerships and collaborations with universities and research institutions.
Tips and startup know-how
The biggest lesson from the startup phase is that investing in startup packages that are already put together with checklists and tips is worthwhile. The reason being that the pitfalls of bureaucracy can be impossible to keep track of. Elisabeth Firchau explains, "I would have liked to know beforehand that not every accounting software is up to the task. I would recommend having such software yourself if, like me, you have absolutely no idea about accounting."
ESA BIC as a booster for Space Startups
During their time in the ESA BIC network, the founding team expects to connect with industry experts and the startup community, as well as gain more visibility for their company, for example at trade fairs. Abdo Mostafa, "as co-exhibitors at a stand, with the charisma of ESA, even as newcomers we get a degree of attention that we would otherwise have to work for over several years – but the innovative power of the competition doesn't give us that much time."
It is a force determined by rising demand which, incidentally, has recently risen for satellites in LEO (low earth orbit): After completion of their useful life, these satellites must now be moved by the operators within a period of +5 years to re-enter the Earth's atmosphere – and thus burn up – or into a so-called 'graveyard orbit'. Until recently, this period was 25 years.
From Bremen to the world, and much, much further
Good news for Elisabeth Firchau and Abdo Mostafa, who are motivated by the increasing pressure to innovate and be ready for optimum performance. Elisabeth Firchau, "our mission is to develop pioneering solutions for access to orbit and to revolutionize in-orbit services with space technologies from Germany. The fact is that a large number of clean-space ideas are currently coming from the United States and other European countries, while we in Germany also have the relevant expertise. This is a fact that needs to be proven, and we are ready to do that!"

About ESA BIC Northern Germany
The Incubation Centre of the European Space Agency in Northern Germany (ESA BIC Northern Germany) is headquartered jointly with the Bremen aeronautics and space industries association AviaSpace Bremen at the BITZ, the largest innovation and technology centre for high-tech companies and startups in Bremen. The ESA BIC Northern Germany brings new startup opportunities to the region and thus strengthens the aeronautics and space sector in the German federal state of Bremen. AviaSpace Bremen supports the incubatees with its network, public relations work and targeted coaching not only during the incubation period, but also afterwards as alumni. Starthaus is the central point of contact in the Bremen startup ecosystem and supports the startups on all issues relating to business development and financing. The ESA BIC Northern Germany is managed by Anwendungszentrum GmbH Oberpfaffenhofen (AZO), an international networking and branding company for the European space programmes that also manages ESA BIC Bavaria with three locations in southern Germany.
Since 2021, ESA BIC Northern Germany has also been offering its service to space-related startups in Schleswig-Holstein. The Technikzentrum Lübeck with GATEWAY49, AviaSpace Bremen and AZO jointly operate this extension of ESA BIC Northern Germany. There are also plans to extend ESA BIC Northern Germany to the northern German federal states of Hamburg, Lower Saxony, Mecklenburg-Western Pomerania and Berlin-Brandenburg.