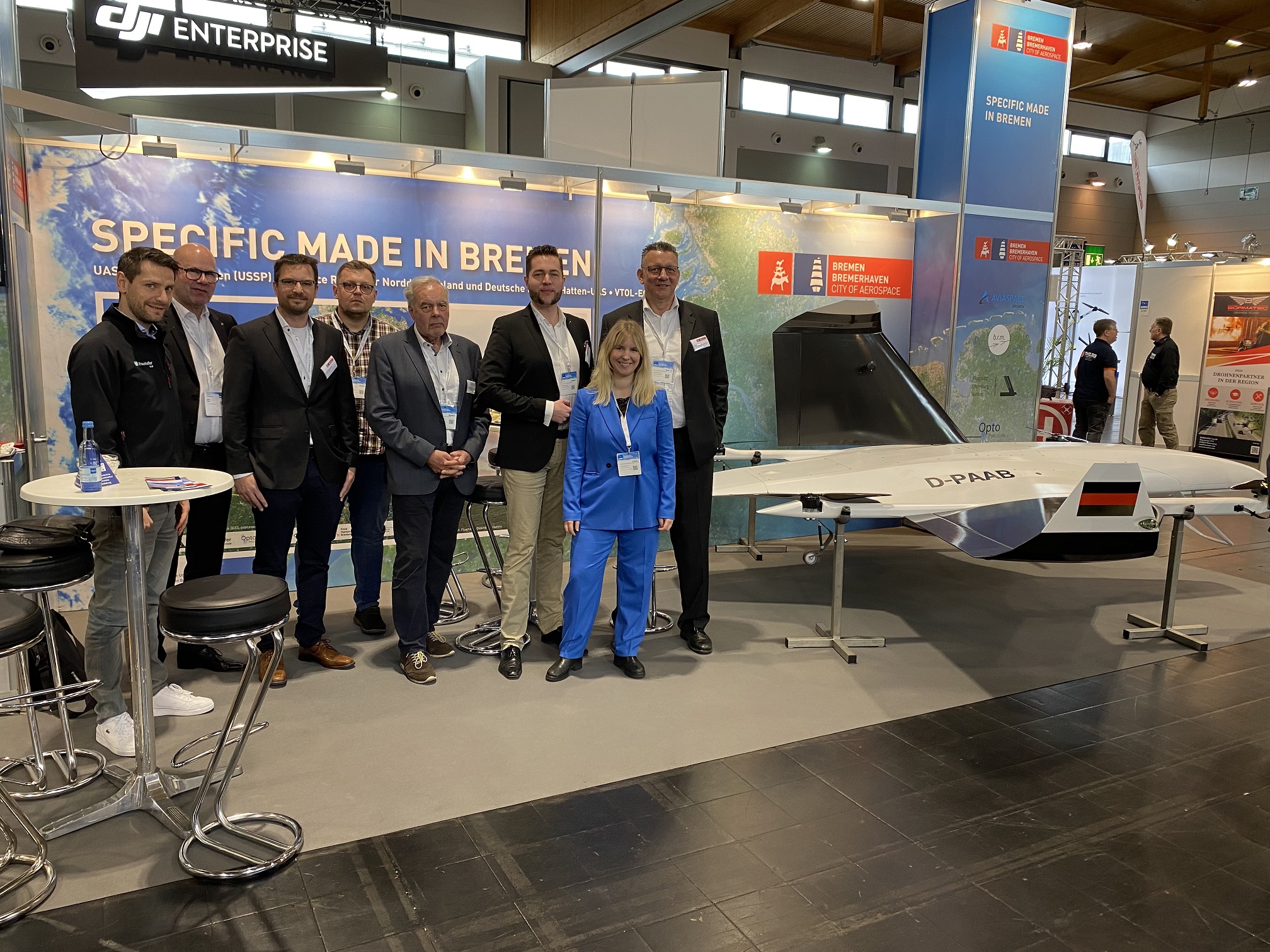 Great interest in Unmanned Aircraft Systems: UAS – The Joint Booth of the City of Aerospace Bremen Bremerhaven at the AERO Friedrichshafen
20.04.2023
FLUCTO: THE STARTUP REVOLUTIONISING WIND TURBINE INSTALLATION WITH GALILEO
10.05.2023
New ESA BIC Northern Germany incubatee Werover GmbH is making a significant contribution towards the climate crisis. The Bremen startup uses AI, iOT, robotic technologies and satellite communications to detect early problems at wind and hydropower plants. With this technology they hope to extend the life of wind and hydropower plants, making renewable energy more accessible and affordable in the long term.
Maintenance problems in the renewable energy sector
Early on the founders of Werover identified several problems when it came to maintenance and early damage detection in the hydropower and wind power sectors – it is time intensive, costly and the maintenance process itself can often lead to damage.
Hydropower plants feature tunnels often between 10 and 20 km long which transport water from reservoirs to turbines. These must be inspected regularly, and the standard method is to drain these tunnels and for a technician to walk through and inspect them manually looking for damage, cracks and sedimentation. However, this not only means weeks of downtime when the tunnels have to be drained, there is a risk of collapse due to the pressure changes caused by emptying and refilling the tunnels which can decrease their total lifetime.
Wind turbines can also be problematic when it comes to damage detection. Lightening has increased 3-fold in recent years, and this can damage wind turbine blades. Maintenance of blades is extremely expensive, and the average yearly maintenance costs of one wind turbine stands at around € 4.5 million.
WeRover CTO Kazım Çağlar Erat with the Werover robot during test operations (©WeRover).
Werover: Space meets Robotics
Using AI, IoT and robotic technologies, Werover offers a service which carries out predictive maintenance of hydropower and wind plants, helping to detect problems at the earliest stage. For hydropower plants, their Searover service sends a line of Remotely Operated Underwater Vehicles (ROVs) down through the hydropower tunnels to detect cracks and sedimentation through the use of 3D mapping technologies. These ROVs use satellite navigation to find their way through the tunnels, and they also communicate via satellite. "Our business is active in the downstream market since we provide inspection services for underwater assets. Our ROVs use two-way satellite communication: the data from the robot is transmitted and displayed on the operation unit screen and we send the control commands to the robot – all in real time", explains Ilkyaz Koca, Business Development Manager at Werover GmbH.
Their Windrover service for wind turbines sees sensors added to blades which also undertake 3D modelling of the blades for early damage detection. The data is then analysed by machine learning algorithms (patent pending) and a mobile app shows all data in real time. In the future Windrover will use satellite communication to review this information.
Bremen: European Headquarters
In 2022 Werover moved to Bremen to mark the start of their incubation and cooperation with ESA BIC Northern Germany. Germany will become the company's European headquarters. While their existing team of 25 people will stay in Turkey, they are building up a new team in Germany with Werover GmbH focusing mainly on the technical and marketing sides. This includes R&D and improving ROV positioning accuracy by means of satellite communication. The Bremen headquarters will provide a base for international expansion, first into Europe and then further afield.
Werover GmbH offers services around maritime, energy and AI applications. "These sectors are strongly represented both in Bremen and Bremerhaven, that's why choosing the Hanseatic city as our headquarters was an obvious one", explains Ilkyaz Koca. In addition to Bremen as a port and industrial city, the existence of various local research institutes is also one of the main reasons why Werover is being incubated in Bremen. "We have already started our collaboration with the German Research Center for Artificial Intelligence (DFKI) and Fraunhofer, as we are developing a Horizon project in the same consortium", says Koca.
Werover GmbH is confident that their solutions will make a real difference to the climate crisis. "By reducing waste, extending the lifetimes of renewable energy plants, and removing costly manual processes, we are contributing towards sustainability in the energy sector. We are helping the plants to save money which in turn will help to make clean energy much more affordable and accessible" says Ilkyaz Koca.
Helping customers to save money
The last two years since launch have been exciting times for the startup. They have acquired their first customers for their Searover service and count international energy and green tech companies among their partners.
Werover CEO Balca Yilmaz is also one of the few female ROV operators; she was recently awarded Microsoft's Successful Female Entrepreneur of the Year. "In the robotics industry it is really unusual to have a female lead, so we are really proud of her vision and contribution" says Koca.
 Werover cofounders Balca Yilmaz and Kazim Caglar Erat met at Istanbul Technical University where they both studied control and operation engineering. Diving was an early passion for one of the co-founders, and both engineers set about combining this passion and technical knowledge with their desire to improve renewable energy. They applied for research funding and developed the Searover underwater robot. After partnering with a major energy company, they discovered that the challenge of predictive maintenance also applied to wind turbines. They adapted the technology to meet this need.
The future
Werover has the ambitious goal to reach € 58 million turnover by 2027 and occupy 5.6% of the wind turbine market UK-EU-TR by 2027. But their vision is not merely financial – they want to increase the lifetime of wind turbines by 25% and achieve a 2% predictive maintenance CAGR (Compound Annual Growth Rate), a figure which currently stands at 24.45%.
Longer term, the company has also set its sights on modifying their technology for other forms of renewable energy. While their current focus is only on development of their core products, the longer-term vision post 2025 will likely see the company investing in solar energy. "Our vision is to become a service provider for all renewable energies", says Koca.
About ESA BIC Northern Germany
The Incubation Centre of the European Space Agency in Northern Germany (ESA BIC Northern Germany) is headquartered jointly with the Bremen aeronautics and space industries association AviaSpace Bremen at the BITZ, the largest innovation and technology centre for high-tech companies and startups in Bremen. The ESA BIC Northern Germany brings new startup opportunities to the region and thus strengthens the aeronautics and space sector in the German federal state of Bremen. AviaSpace Bremen supports the incubates with its network, public relations work and targeted coaching not only during the incubation period, but also afterwards as alumni. Starthaus is the central point of contact in the Bremen startup ecosystem and supports the startups on all issues relating to business development and financing. The ESA BIC Northern Germany is managed by Anwendungszentrum GmbH Oberpfaffenhofen (AZO), an international networking and branding company for the European space programmes that also manages ESA BIC Bavaria with three locations in southern Germany.
Since 2021, ESA BIC Northern Germany has also been offering its service to space-related startups in Schleswig-Holstein. The Technikzentrum Lübeck with GATEWAY49, AviaSpace Bremen and AZO jointly operate this extension of ESA BIC Northern Germany. There are also plans to extend ESA BIC Northern Germany to the northern German federal states of Hamburg, Lower Saxony, Mecklenburg-Western Pomerania and Berlin-Brandenburg.