Boeing receives first P-8A Poseidon components from Aljo
02.12.2020
Reef Support Wins the Copernicus Masters 2020 Competition
09.12.2020
07.12.2020: The aerospace engineer Frank Kortenstedde spent many years researching in the field of wind energy – most recently at the Institute of Aerospace Technology (IAT) at Bremen University of Applied Sciences. During his dissertation, he developed the idea on which his start-up Evoblade is now based. In 2016 he founded the company and together with two partners at the time, he developed a special flow element for wind turbines. At the end of the same year, the energy company swb became a minority shareholder in the Bremen start-up. Since October 2020, Evoblade has been part of the ESA BIC Northern Germany. Frank Kortenstedde: "In the past we have already been able to successfully apply for funding. We have always found that the effort put into an application is worth it, because we have always benefited and have been able to push our original idea forward. That is why we are very pleased to be accepted into the Bremen ESA Incubator."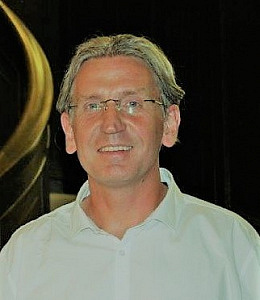 Managing Director and Evoblade founder Dr. Frank Kortenstedde.Kortensteddes invention goes by the name of "EvoFlap." It consists of glass fibre reinforced plastic and is mounted, or more precisely glued & laminated in the root area of the rotor blades. The process is fast and efficient: the rotor blade remains mounted and EvoFlap can be integrated independent of the type of wind turbine or manufacturer. The modified rear edge thus effectively reduces disturbing cross currents. The wind turbines thus generate an additional yield of up to 6 % – even more than originally forecasted. The costs for the "upgrade", also known as "retrofitting", are thus amortised within around three years. A further advantage is that the reduced load on the rotor blades may extend the service life of wind turbine and thus of an entire wind farm even further.
Frank Kortenstedde: "The blade root area is still often neglected by most manufacturers today. However, we have developed a method with which this area can be optimised relatively easily. Our EvoFlap is a turn-key solution and therefore also interesting for manufacturers with whom we would like to connect through the ESA BIC NG platform. To my knowledge, we are the first to have developed a flow element of this size for the leaf root area. The advantage is that there are no high costs, because the rotor blade does not have to be dismantled for this measure". In 2018, Evoblade and the IAT, together with the industrial partner Deutsche Windtechnik, equipped a first pilot plant and demonstrated the increase in efficiency of the wind turbines in question.
Potential future customers include owners, operators and operating companies of wind turbines and their manufacturers. Frank Kortenstedde: "The specific goal is to get Evoblade "flying" during our two years of ESA BIC funding.' Now that development has been completed, the next priority is marketing, i.e. the successful start of customer acquisition".
Another ongoing project of the Bremen start-up is concerned with the effective measurement of wind speed and direction. For this purpose, Evoblade equipped the "DJI Phantom" flying drone with special sensor technology. Measuring the wind at the turbines thus provides even more accurate results than the integrated measuring systems located behind the rotor blades, which sometimes produce falsified results. Kortenstedde: "The measuring system is still under development, but the current state of development is also very promising".
The lessons learnt so far from the foundation phase? Kortenstedde: "In a technically demanding project, the time schedule is usually set out too tight. And on the way to reaching your goal, there are always some bends in the road. But all in all, there is always a solution for every problem!"
23.11.2023
Space Tech Expo Europe returned to Bremen, the city of aerospace, for its sixth edition. The three-day trade fair took place from November 14 – 16,
[…]
16.10.2023
In the world of engineering, designing a product can be a complex and time-consuming process. With thousands of documents detailing every aspect of a design, even
[…]
01.10.2023
After a perfect launch by Ariane 5, the European Space Agency (ESA) JUpiter ICy moons Explorer (JUICE) probe headed off on its fascinating quest – to study the solar
[…]