City of Space Presents GAIA-X-Use Case "DASCLab" at Hannover Messe 2021
12.04.2021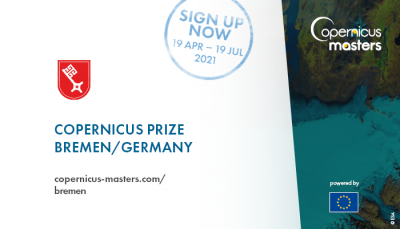 Monitoring Climate Change with Copernicus – Copernicus Masters 2021 Submissions Open 19 April
19.04.2021
For 17 years, the Galileo Masters has been fostering the development of new technology and business cases, service delivery and applications based on Galileo. This year's edition offers topic challenges and prizes include the opportunity to also integrate the use of Earth observation data. The competition opens for submissions on 19 April 2021.
Oberpfaffenhofen, 19 April 2021 – The demand for high-accuracy positioning services is growing, especially for emerging applications such as autonomous driving, unmanned vehicles, location-based services (LBS) and robotics. The Galileo High-Accuracy Service is expected to pioneer free worldwide horizontal precision up to 20 centimetres and turn it into a widespread commodity. The HAS, will contribute to the creation of new and emerging applications, alongside the professional applications that currently use high accuracy for surveying, precision agriculture, civil engineering, and geodesy. Applications such as the autonomous trash picking robot from Angsa Robotics, last year's Galileo Masters overall winner, will be able to significantly benefit from it. The Galileo HAS will foster innovation in both consolidated and emerging markets, offering a unique service with corrections transmitted directly via Galileo satellites.
The Galileo Masters awards prizes to services, applications and business cases that use Galileo and GNSS data to tackle important challenges faced by business and society. Well-known space stakeholders and regional and local Galileo Prize Partners co-funded by the European Commission are set to award prizes worth over EUR 785,000 in total. The main target group includes SMEs, startups, universities and individuals in the fields of business, research, and higher education, who are welcome to submit their application services and product solutions. Entries open on 19 April 2021. Submissions can demonstrate their innovative use of GNSS data across a wide variety of challenge topics.
The partners of the 2021 edition are the European GNSS Agency (GSA) with three challenges, the German Aerospace Center (DLR) together with the German Federal Ministry of Transport and Digital Infrastructure (BMVI) and the European Space Agency (ESA). In addition, participants can choose from a variety of international Galileo Prizes, organised regionally and co-funded by the European Commission with up to EUR 10,000 each.
"Europe needs more young companies dedicated to building and commercialising new digital services, valorising space data from Europe's satellites. The Commission has in recent years supported the Galileo Masters, an innovation competition which has seen many innovative applications among its contestants and winners. We are looking forward to seeing many more ambitious entrepreneurs take part in the 2021 competition when submissions for Galileo Masters open on 19 April 2021; Europe's Bauhaus in Space needs them." Catherine Kavvada, Director DG DEFIS, European Commission.
"Galileo Masters participants benefit from the tailored business support of our global space ecosystem, which has enabled them to raise around € 524 million in venture capital in recent years," explains Thorsten Rudolph, Managing Director of AZO Anwendungszentrum GmbH Oberpfaffenhofen, the competition organiser. "With the continuation after the successful launch of the Galileo Prizes, participants have the possibility of receiving support and additional prizes at a country, region or institution of their choice."
"The COVID pandemic is still with us and, while there were some excellent ideas in last year's competition for solutions to help society mitigate and adapt to the effects of the pandemic, there is still a lot of scope to leverage Galileo and EGNOS, either alone or in synergy with Earth observation data from Copernicus, to help us in facing this challenge," said Rodrigo da Costa, Executive Director at the GSA. "This is why we have decided to give innovators another opportunity to put forward their ideas this year," he said.
In addition, the Galileo Masters is complemented by the Galileo Incubation programme, co-funded by the European Commission to empower the transformation of great business cases into commercially viable solutions through a tailored business incubation programme. The top six winners of the Galileo Masters 2021 will gain access to this incubation prize of up to EUR 62,000 each if eligible.
For more details on this year's challenges, prizes, and partners, please see www.galileo-masters.eu.
About Galileo Masters
Initiated by AZO Anwendungszentrum GmbH Oberpfaffenhofen, German Aerospace Center (DLR) and the Bavarian State Ministry of Economic Affairs and Media, Energy and Technology, the Galileo Masters is today the leading network for satellite navigation. The Galileo Masters annually awards prizes to the best services, products, and business ideas that use satellite navigation in everyday life, spurring the development of respective market-driven applications. For 17 years, the international innovation competition has served as an accelerating instrument for space‐related entrepreneurs and startups, providing Europe with innovations. Since 2004, almost 13,000 developers have taken part with an overall prize pool worth EUR 13.8 million for more than 404 winners. 171 international judges are assigned with evaluating submissions. Additionally, AZO established Europe's first Galileo Incubation (formerly the E-GNSS Accelerator) programme, funded by the European Commission (COM).
For more information, please see www.galileo-masters.eu Press contact:
team@galileo-masters.eu
AZO Anwendungszentrum GmbH Oberpfaffenhofen
Friedrichshafener Str. 1
82205 Gilching/Oberpfaffenhofen