AVIASPACE VISITS HANSEATIC AVIATION SOLUTIONS
11.03.2022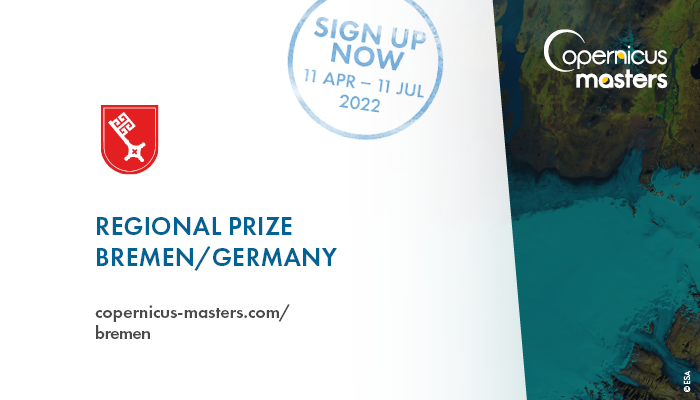 Copernicus Prize Bremen
12.05.2022
While space travel and exploration are nothing new, it is often reserved for companies and institutions that have the time and money to dedicate to largescale projects. The New Space startup and ESA BIC Northern Germany incubatee, Levity UG, wants to even the playing field.
The Levity team all met during their time at the Aachen University of Applied Sciences, where they studied aerospace engineering with a focus on astronautic engineering. Realizing that they worked well together, they came up with an initial concept for a small satellite and entered it in the Innospace Masters 2017 competition. There, the team of engineers made it to the finals, which was the motivating push they needed to continue forward.
Now based in Bremen, the young startup is looking to redefine space exploration and make space more accessible to the masses with their small satellite, ESCI. The satellite itself weighs 100 kilograms and is approximately the size of a washing machine. What makes the ESCI stand out from the competition is its plug-and-play payload deck, which would allow for dedicated missions of small payloads up to the Moon without the need for the costly rideshare on a Moon-rocket. This is achieved by ESCI resembling an electrically propelled micro-launcher kickstage to transport small satellites into higher orbits. While this would require more time, it would only be a fraction of the cost of a conventional space mission.
"We want to make space access easier. We don't want space exploration to be reserved only for big companies and industry leaders, we want something that anyone can buy and is ready to use. That is not the case with satellites today," explains Lars Kesseler, founder of Levity.
Levity UG wants to offer its lunar platform to institutes, Universities, and smaller companies with the goal of establishing a new alternative for satellite operators. The design of the multi-purpose, multi-environment satellite would allow for missions such as observation, support, navigational and satellite transport missions as well as technology demonstration of new components.
While larger companies would require a lot of time and money to create something specific to a particular case, the ESCI satellite platform would allow for a wide variety of missions as flexibly as possible using certified space suitable components that are readily available on the market.
"Right now, if you want your ideas to be realized, you have to contact big companies to have missions designed specifically for your project. This can take years and cost millions of dollars. With our satellite platform, we are able to offer something that is ready to use and will save both time-to-orbit and overall risk of a space mission. It's a convenient platform for many commercial or scientific mission," says Lars Kesseler.
The future for Levity: a mission to the moon! Based on current prototypes, that they are currently working on, the Levity team will then build the flight model and test it for set up for the actual launch planned in 2026. While this is a big goal, the team is confident in where they have their sights set, "we are motivated to aim high and although it's quite ambitious, we see that it's needed for the vision of where we want to go."
For more information on Levity:
#Space Meets Manufacturing
About ESA BIC Northern Germany
The Incubation Centre of the European Space Agency in Northern Germany (ESA BIC Northern Germany) is headquartered jointly with the Bremen aeronautics and space industries association AviaSpace Bremen at the BITZ, the largest innovation and technology centre for high-tech companies and startups in Bremen. The ESA BIC Northern Germany brings new startup opportunities to the region and thus strengthens the aeronautics and space sector in the German federal state of Bremen. Aviaspace Bremen supports the incubatees with its network, public relations work and targeted coaching not only during the incubation period, but also afterwards as alumni. Starthaus is the central point of contact in the Bremen startup ecosystem and supports the startups on all issues relating to business development and financing. The ESA BIC Northern Germany is managed by Anwendungszentrum GmbH Oberpfaffenhofen (AZO), an international networking and branding company for the European space programmes that also manages ESA BIC Bavaria with three locations in southern Germany.
Since 2021, ESA BIC Northern Germany has also been offering its service to space-related startups in Schleswig-Holstein. The Technikzentrum Lübeck, Aviaspace Bremen and AZO jointly operate this extension of ESA BIC Northern Germany. There are also plans to extend ESA BIC Northern Germany to the northern German federal states of Hamburg, Lower Saxony, Mecklenburg-West Pomerania and Berlin-Brandenburg.