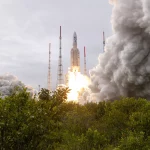 Ariane 5: A unique launcher for iconic missions – JUICE
01.10.2023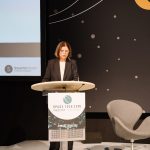 Trendsetting, innovative, connecting: Space Tech Expo Europe 2023
23.11.2023
In the world of engineering, designing a product can be a complex and time-consuming process. With thousands of documents detailing every aspect of a design, even a small change can require updates across multiple files, making document management a significant challenge. However, thanks to Valispace, a groundbreaking start-up supported by the European Space Agency's Business Incubation Centre (ESA BIC) in Northern Germany, this tedious and complex process is becoming a thing of the past.
As engineers, the Valispace co-founders recognised the need for a solution to streamline engineering design and documentation. They understood that traditional methods of engineering were inefficient and limited in their ability to keep up with the demands of the future. "I wanted to empower engineers that I know work in archaic ways. I realised that if we really want to engineer for the future, we cannot do it with Microsoft Office documents," emphasised Marco Witzmann.
Valispace's collaborative engineering software signals a major change for the industry. It ensures that all engineers work with the same data, eliminating the need for extensive documentation updates with every change. The software also leverages artificial intelligence (AI) to automate time-consuming engineering tasks. For example, the software can assist in writing formal requirements, generating documentation, and identifying inconsistencies. This approach not only saves time but also promotes efficient design iterations and faster time-to-market for innovative products.
From Humble Beginnings to Steady Growth
The journey of Valispace began when Marco, working as a satellite engineer at OHB in Bremen, crossed paths with Louise Lindblad, who was involved in drone and satellite projects in Portugal. In 2015, their paths converged at Startup Weekend Space in Bremen, where Marco pitched his idea to an audience of aspiring entrepreneurs in the space industry. Their shared vision and expertise laid the foundation for their collaboration.
With approximately 35 employees, the company operates as a Bremen-Lisbon collaboration, with the majority of its team based in Lisbon. In 2019, Valispace became one of the first companies to be incubated by the ESA BIC Northern Germany, a milestone that proved pivotal to their success. Although Valispace initially targeted the space industry, their software has found utility across a wide range of sectors. From spacecraft to automotive and robotics, Valispace has become an indispensable tool for companies building physical products. With over 100 companies already benefiting from Valispace's software, the success stories continue to grow.
The ESA BIC Partnership: A Catalyst for Success
Participating in the ESA BIC Northern Germany programme provided Valispace with crucial support and resources. The programme offered valuable industry insights and facilitated connections with other startups in the incubation centre. The financing was also hugely beneficial in the early days and helped the founders create marketing materials and better define their company positioning. This collaborative, supportive environment allowed Valispace to thrive.
Driving Continuous Improvement with AI Integration
Valispace continues to evolve and improve its software, with a recent addition being an AI assistant integration. This assistant provides instant engineering insights and workflow improvements, further enhancing the user experience and productivity in engineering workflows.
Valispace's transformative impact on engineering design has been undeniable. By transforming the way engineers collaborate, Valispace has created a streamlined and efficient solution for product development. Valispace paves the way for a future where engineers can concentrate on product iterations and design, rather than time consuming documentation, bringing high-quality sustainable products to market faster.
Further Articles on ESA BIC Northern Germany Alumni can be found here.
About ESA BIC Northern Germany
The Incubation Centre of the European Space Agency in Northern Germany (ESA BIC Northern Germany) is headquartered jointly with the Bremen aeronautics and space industries association AviaSpace Bremen at the BITZ, the largest innovation and technology centre for high-tech companies and startups in Bremen. The ESA BIC Northern Germany brings new startup opportunities to the region and thus strengthens the aeronautics and space sector in the German federal state of Bremen. AVIASPACE BREMEN e.V. supports the incubatees with its network, public relations work and targeted coaching not only during the incubation period, but also afterwards as alumni. Starthaus is the central point of contact in the Bremen startup ecosystem and supports the startups on all issues relating to business development and financing. The ESA BIC Northern Germany is managed by Anwendungszentrum GmbH Oberpfaffenhofen (AZO), an international networking and branding company for the European space programmes that also manages ESA BIC Bavaria with three locations in southern Germany.
Since 2021, ESA BIC Northern Germany has also been offering its service to space-related startups in Schleswig-Holstein. The Technikzentrum Lübeck with GATEWAY49, AviaSpace Bremen and AZO jointly operate this extension of ESA BIC Northern Germany. There are also plans to extend ESA BIC Northern Germany to the northern German federal states of Hamburg, Lower Saxony, Mecklenburg-Western Pomerania and Berlin-Brandenburg.
The technical Support of the ESA BIC Northern Germany, is offered by Fraunhofer IFAM, DFKI, AWI, Bremen University, ZARM, Airbus, ArianeGroup, AES, DSI, and OHB.